Bazlur Rashid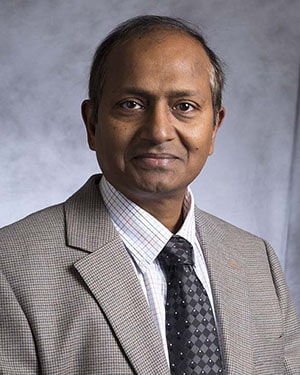 Dr. Bazlur Rashid is an Associate Professor of Biology and Biotechnology at University of Houston-Clear Lake. Dr. Rashid's research projects including regulation and localization of proteins/enzymes aiming towards vaccine development or chemotherapy, cloning of novel genes to study roles in pathophysiology in human diseases, expression and characterization of chimeric proteins, and mechanism of DNA replication
Recent Submissions
We have reported the isolation of linking clones of HindIII and EcoRI fragments, altogether spanning a 230-kb continuous stretch of chromosome VI. The presence or absence of autonomously replicating sequence (ARS) activities ...

Efficient ribosomal protein synthesis is dependent on cis-acting elements in the 5′ untranslated region (UTR) of mRNAs. Between prokaryotes and eukaryotes, the sequence and location of these elements differ to the extent ...

(

Eur J Biochem.

,

1999-09-15

)

Glycosylphosphatidylinositol-specific phospholipase C (GPtdIns-PLC) is found in the protozoan parasite Trypanosoma brucei. A region of protein sequence similarity exists between the protozoan enzyme and eubacterial ...

Stable transformation depends on the efficient delivery of DNA into cells and the robust expression of genes that encode proteins which provide resistance to selective (cytotoxic) compounds. We have examined the possibility ...

(

Proc Natl Acad Sci U S A

,

2001-08-28

)

Human inducible nitric oxide synthase (iNOS) is active as a dimer of two identical subunits. Each subunit has an amino-terminal oxygenase domain that binds the substrate l-Arg and the cofactors heme and tetrahydrobiopterin ...

Glycosylphosphatidylinositol (GPI)-specific phospholipases are highly valuable for studying the structure and function of GPIs. GPI-specific phospholipase C (GPI-PLC) from Trypanosoma brucei and phosphatidylinositol-specific ...

(

Proc Natl Acad Sci U S A

,

2003-11-25

)

Overproduction of nitric oxide (NO) by inducible NO synthase (iNOS) has been implicated in the pathogenesis of many diseases. iNOS is active only as a homodimer. Dimerization of iNOS represents a potentially critical target ...

(

Emir. J. Food Agric.

,

2012

)

Despite significant progress in our understanding of the pathophysiology of cancer as a whole, ovarian cancer is still remains as one of the most intractable forms of the disease with only 30% cure rate with the conventional ...